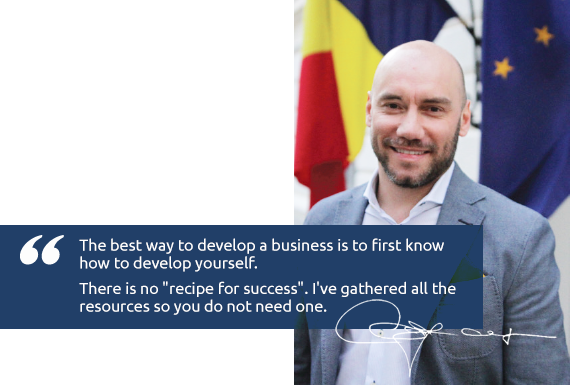 CENTRUL DE DEZVOLTARE SMART
CONSULTANCY FOR NON-REFUNDABLE FUNDS | IMPLEMENTATION OF ENTREPREURIAL PROJECTS | PROFESSIONAL TRAINING COURSES
We invest actively to support the community to develop successful business and people because this is possible for a respectable society and, most important, a SMART society.
We operate on a simple principle, namely that if you want to live in a better community you must contribute to its formation. Therefore everything we represent starts with solutions for the community interests that translate into measurable business gains.
CE NE PROPUNEM
Develop and offer partnerships with public institutions for projects of local or regional interest, in social integration area.
Develop social centers of information and partnership institutions, as well as cooperation with state authorities and/or other NGOs.
We organize seminars, trainings, workshops and conferences at local, national or international level.
Support social centers.
Promote modern technologies of information processing and find material means for raising the informational level elaborating studies, modules and trainings in this regard.
Support the exchange of experience and know-how between young people from different regions.
Associate with other foundations, associations and individuals who support initiatives for community development.
Support initiatives for environmental protection.
Promote the interests of the local community.
Edit and translate specialized studies.
Help to design sustainable development strategies.
Design and management of the investment projects and social projects.
CONSULTANȚĂ
FOR PUBLIC ADMINISTRATION AND PRIVATE SECTOR. OUR PACKAGE OF SERVICES WILL GUARANTEE:
Business plan and market study
Feasibility study
Economic and financial forecasts
Completion of grant applications specific to the funding program;
Consultancy to obtain an investment credit for co-financing
Assistance and consultancy for designing and obtaining the approvals, agreements and documents required to obtain financing
Technical assistance and advice for the implementation of procurement procedures
Consultancy services and investment project management throughout the investment project (including reports and payment requests)
Collaboration with a project manager for the entire duration of the financing contract and the investment
PROGRAME
NATIONAL FINANCING

OTHER FINANCING

ERASMUS +

Romania-Bulgaria Cross Border Cooperation Program 2014-2020
PRIVATE STRUCTURAL FUNDS

ROP 2.1 European non-reimbursable funds – investments for micro-enterprises in urban areas

NATIONAL PROGRAM OF RURAL DEVELOPMENT – NRDP

NRDP SM6.4 INVESTMENTS IN CREATING AND DEVELOPING NON-AGRICULTURAL ACTIVITIES

OPERATIONAL PROGRAM COMPETITIVITY – POC

OPERATIONAL PROGRAM BIG INFRASTRUCTURE – POIM

OPERATIONAL PROGRAM HUMAN CAPITAL – POCU
PUBLIC STRUCTURAL FUNDS

REGIONAL OPERATIONAL PROGRAM – POR

NATIONAL PROGRAM OF RURAL DEVELOPMENT – NRDP

OPERATIONAL PROGRAM COMPETITIVITY – POC

OPERATIONAL PROGRAM BIG INFRASTRUCTURE – POIM

OPERATIONAL PROGRAM HUMAN CAPITAL – POCU

OPERATIONAL PROGRAM ADMINISTRATIVE CAPACITY – OPAC

OPERATIONAL PROGRAM HELP FOR UNDERPRIVILEGED PEOPLE – POAD
SMART Development Center Association, Galati
Identifier Code: RO15567810
IBAN: RO82UGBI0000152005901RON GarantiBank, Galati